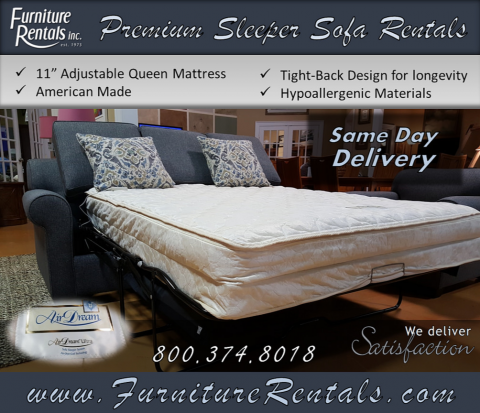 AirDream Sleeper Sofa Rentals
Furniture Rentals, Inc. rents comfortable sleeper sofas featuring an adjustable AirDream mattress that expands to a thickness of 11 inches.  With this mattress, you will NOT feel the supports and bars that are normally felt when sleeping on a traditional sofabed with a thin 4 inch mattress.  Our rental sleeper sofas also allow you to adjust the firmness of the bed with the attached remote control. 
Provide your house guest with a good night's sleep by renting a premium sleeper sofa from Furniture Rentals, Inc.  We also offer Queen sleeper sofa linens, pillows, and a matching club chair. Complete the room by adding lamps, end tables, a coffee table, and any other furniture or home decor items.  Renters can visit one of our furniture rental stores and showrooms located in Mt Pleasant SC, Columbia SC, Savannah GA, or Augusta GA to test this wonderful sleeper sofa first-hand before renting.  Additionally, you can finalize your rental through our online furniture rental store: SHOP FURNITURE RENTALS and schedule your delivery to anywhere in our SERVICE AREA.  We offer SAME DAY DELIVERY throughout GA, SC, NC, and upper FL.