Delivery Specialist - Savannah GA Metro Area
---
We're Hiring in Savannah!
Furniture Rentals, Inc. is seeking driven and career oriented individuals for immediate hire on a full time basis in Savannah GA.  We'd like you to join our team.  Our standard operating hours are 9:00AM to 6:00 PM Monday - Friday.  Benefits, including health insurance, are available to team members after an initial probationary period and review.
The specific job responsibility is to serve as a Furniture Rentals, Inc. Delivery Specialist in an operations capacity for the Savannah market.  Ideal candidates for this job should exhibit traits and skills conducive to effective customer service, quality assurance, and efficiency such as:
         A strong desire for career advancement and growth
         A consistent positive attitude regardless of circumstances
         A Genuine respect & concern for others
         A Proactive, dependable work ethic
         Excellent communication skills
         A Clean, professional appearance
         High energy and intensity
         Physical strength & endurance
Requirements:
         Clean MVR
         Must be at least 21 years of age
         Be able to pass a drug test initially (and randomly)
         Must have reliable transportation and valid driver's license
Furniture Rentals, Inc. is growing our Savannah area market share, and we are seeking new team members to grow with us.  A bachelor's degree and / or experience in operations management is preferred, but is not required.  Please submit your application through our online portal.   If you are selected as a possible candidate for an open position, a Furniture Rentals, Inc. representative will contact you to schedule a follow up interview accordingly.  Interviews will be held at 780 King George Blvd | Savannah GA 31419 - our showroom and warehouse location in Savannah.
Please have a thorough understanding of our business before applying or participating in an interview with Furniture Rentals, Inc.  
Multiple Available Jobs in Savannah GA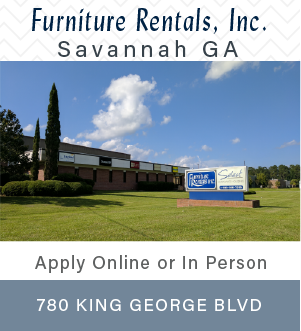 Return to Career Opportunities
Location:
Savannah GA