Retiring in Charleston or Mt Pleasant SC?  Do you need furniture?
Charleston SC is listed in AARP Magazine as one of America's "Dream Towns" for retirement. A recent study by CNBC also ranks Charleston among the top destinations for retirement in the US.
Many senior citizens throughout the United States relocate to Mt Pleasant or Charleston SC to live out their retirement due to the many social activities & events offered for today's active seniors. Mt Pleasant, Charleston, and Daniel Island have an abundance of beautiful assisted living facilities, retirement homes & communities, and nursing homes including Sandpiper Retirement Village, Franke at Seaside, Somerby of Mt Pleasant & Summit Place of Daniel Island (to name a few) that attract the aging Baby Boomers to the Lowcountry. Many of these communities offer studio apartments as well as one & two bedroom Floorplans.
When seniors relocate to Charleston from out of state, it takes weeks (and sometimes even months) to move their furniture to their new home in Charleston. Often moving furniture is not worth the time, effort, or expense and many seniors choose to purchase new or used furniture in Charleston once they arrive to their new homes. For those seniors that choose to move furniture from their previous homes, renting furniture in Charleston from Furniture Rentals, Inc. is the ideal temporary living solution! Furniture Rentals in Mt Pleasant SC offers a wide variety of furniture packages and offers individual items for rent including sleeper sofas, lift recliners, tables, chairs, dressers, chests, and many more items for rent or sale. Furniture Rentals offers monthly rentals and weekly furniture rentals in Mt Pleasant & Charleston. Furniture Rentals has a Mt Pleasant showroom located at 1169 Chuck Dawley Blvd open Monday – Friday from 9:00 AM to 6:00 PM where customers can see the furniture options and choose the furniture that he or she wishes to rent or purchase.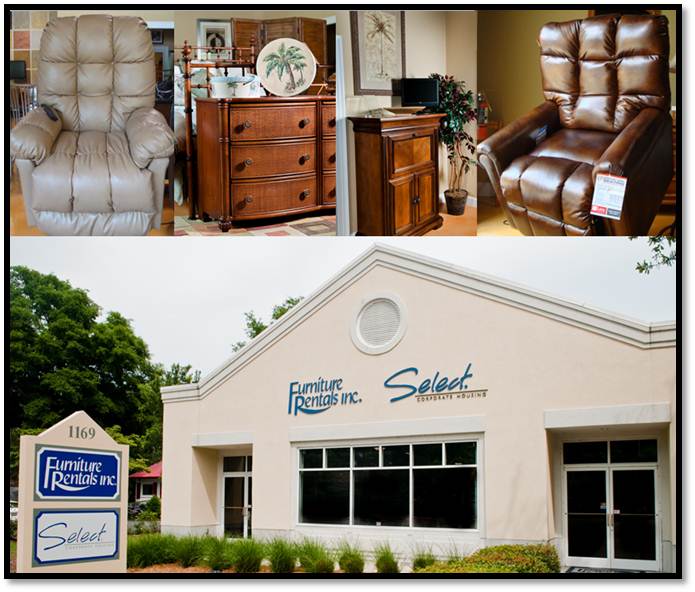 Lift Recliner Rentals | Sleeper Sofa Rentals | TV Rentals | Washer & Dryer Rentals | Table Rentals | Chair Rentals | Weekly Furniture Rentals | Used Furniture Sales | New Furniture Sales | Same Day Delivery | Assisted Living in Mt Pleasant | Retirement in Charleston SC | Franke at Seaside | Summit Place of Daniel Island | Somerby of Mt Pleasant | Nursing Home Furniture | Hospice | Furniture Delivery